Let me start off by saying that this is not my original recipe, but it is too darn good not to share with everyone. I stumbled upon the recipe for
The Perfect Chocolate Chip Cookie
about three years ago and this has become the only recipe I've used
since
then and the
only one
I'll use for the rest of my cookie-making life. I've been making chocolate chip cookies ever since 10th grade when my
Science teacher announced on the first day of school that who ever brought him chocolate chip cookies would get extra credit. I know, "pfft…teacher's pet".
Ashley and Sierra have gotten cookie making down to a science and have truly perfected the recipe. What makes it different? The secret is
weighing
your ingredients instead of
measuring
them. You end up with consistent results and don't risk using too much or too little ingredients. Also, timing can make all the difference between a cookie that has a soft, chewy delectableness to it and one that turns out crunchy, crumbly…crummy. I use a small cookie scoop, so mine only take 8 minutes in the oven. They look underdone when I pull them out from the oven, but as long as the edges are
just
starting to brown, the cookies are are perfection. These ladies also show you what can go wrong, as in this picture: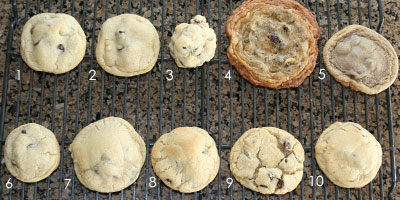 What can go wrong from: theperfectchocolatechipcookie.com
Their recipe has suggestions for different variations such as White Chocolate Macadamia Nut (oh, yeah), Lemon White Chocolate, White Chocolate Craisin, and White Chocolate Toffee. The only variation that I've tried so far is the Macadamia Nut. If any one has any suggestions on where I can find cheap Macadamia Nuts, please tell me!!! They cost $10 for a small can here. Here is the link to
The Perfect Chocolate Chip Cookie!
Enjoy!